A mixer grinder is a technologically advanced kitchen appliance that helps combine and grind various foods. The grinder has made it simple to test our culinary abilities. It is always preferable to have tools that simplify our work and save time. Several options are available on the market, making it difficult to choose the best. We have done excellent research to help you decide which grinder to buy. And conclude that the Sujata mixer grinder is the best in India. Over the years, Sujata India has proved that its mixer grinders are fault free.
To make it understandable, we have listed some common problems you can face with an inefficient grinder that is not a Sujata mixer grinder.
Problems With Ordinary Mixer Brand
Leakage from the jar
Low-quality mixers start tripping after a few sessions
Coupler broke down
Blades are not sharp
These were just a few common problems we often heard of. Now guess the untold faults you can find in a feeble mixer. Numerous mixer grinder alternatives are natively available, with differences in size, construction, and functionality. But a good grinder is robust, long-lasting, functional, has the right shape of stone for grinding, and is simple to use.
So, if you want to avoid difficulties and make life easier in your kitchen, we recommend using a Sujata mixer grinder. The Sujata mixer grinder price is so reliable. It is an efficient and durable mixer that lasts for years.
Also Read: Best Inverter For Home | Inverter For Home In India 2023
Thing To Consider While Buying A Mixer Grinder:
While purchasing a Mixer grinder, you must consider the grinding, blades, capacity, and durability.
Price: The features a mixer grinder offers determine its price. Some companies could charge more for parts available on grinders at lesser prices. So, make a budget and then make any decision.
Power: To save money, always consider the grinder's wattage value. It should have wattage levels between 600 and 800.
Speed: Another assessing factor that will impact the grinder's performance is speed RPM. You can see how many revolutions the grinder makes in a minute. Higher RPM equals faster speed. To change the speed from high to low, the regulator knobs must be functional and efficient.
Size: The sizes of the mixer vary. You can avoid the hassle of keeping it by choosing the appropriate size.
Blades: It's also essential to determine the mixer's blades before making a choice. You must select the right edge to grind and blend ingredients more effectively. Additionally, consider the materials that they are built of.
This guide will find you the best Sujata mixer grinder review with the Sujata mixer grinder price list. Therefore, we need your complete attention.
List Of Top 3 Sujata Mixer Grinder
In this Sujata mixer grinder review, we have listed the best-suited mixer grinder to fulfill the requirements without difficulty. While extracting the best Sujata mixer grinder, we consider the Sujata mixer grinder's price, functionality, efficiency, and durability.
Sujata Dynamix, Mixer Grinder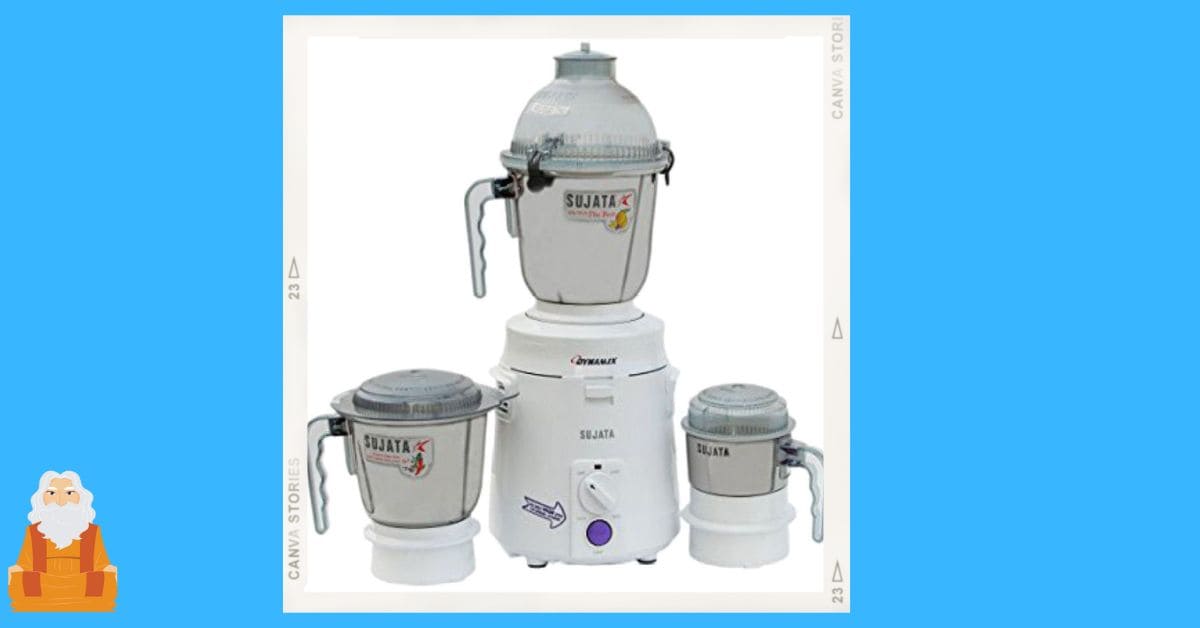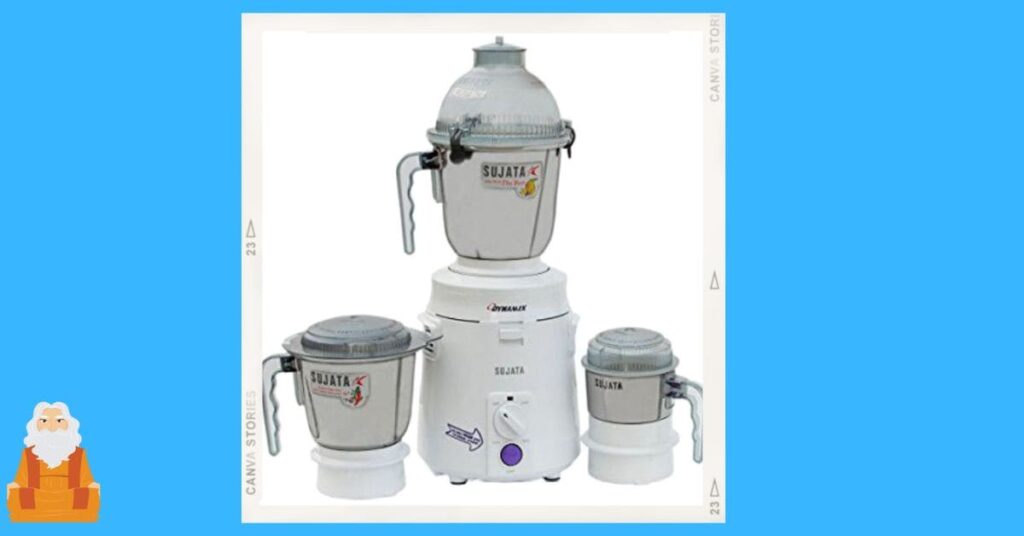 Sujata Dynamix Mixer 900 Watts is one of the top mixer grinders in India. This sujata mixer grinder is excellent for quickly and conveniently grinding. Its jar stainless steel has a two-prong blade. Moreover, its jugs also have locks to keep them secure while grind. Sujata mixer grinder has a 900-watt powerful motor and three 22000 RMP speed controls.

You also don't have to worry about this sujata mixer grinder 900-watt price because it's in a affordable price. It is not only equipped with features, low maintenance, and efficiency, but the Sujata mixer grinder 900-watt price is also very reliable.

So, if you want a smooth-running sujata mixer grinder to grind beans and chutney, this may be a wise purchase.

Pros
900 watt Sujata mixer grinder price
Two stainless steel jugs
Cons
Sujata SuperMix SM Mixer Grinder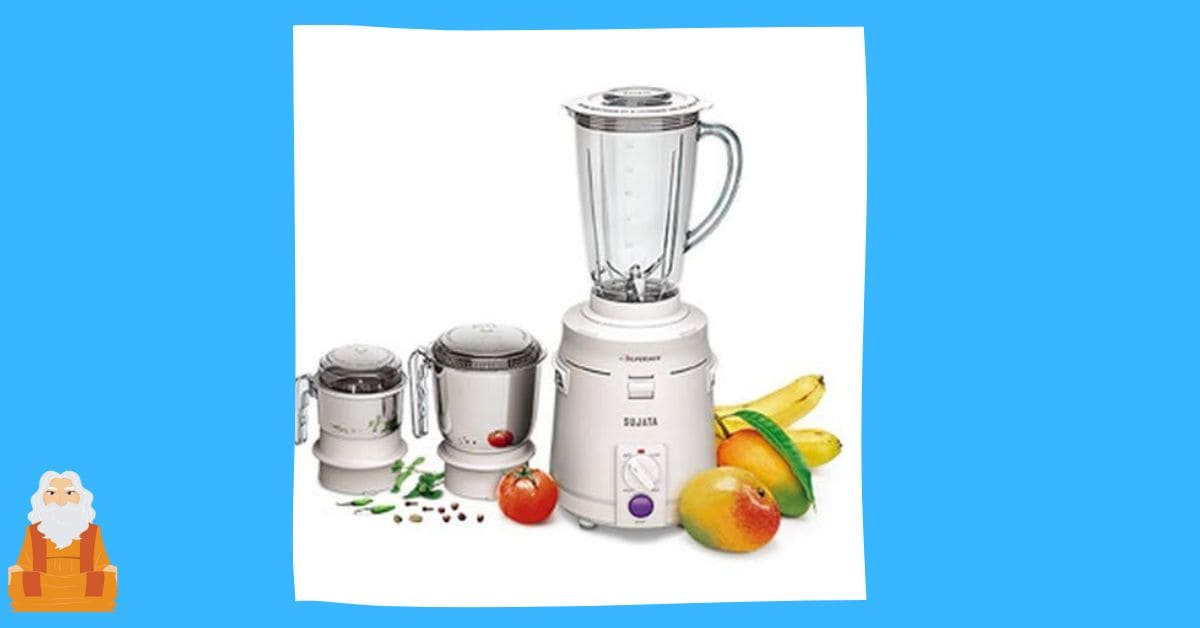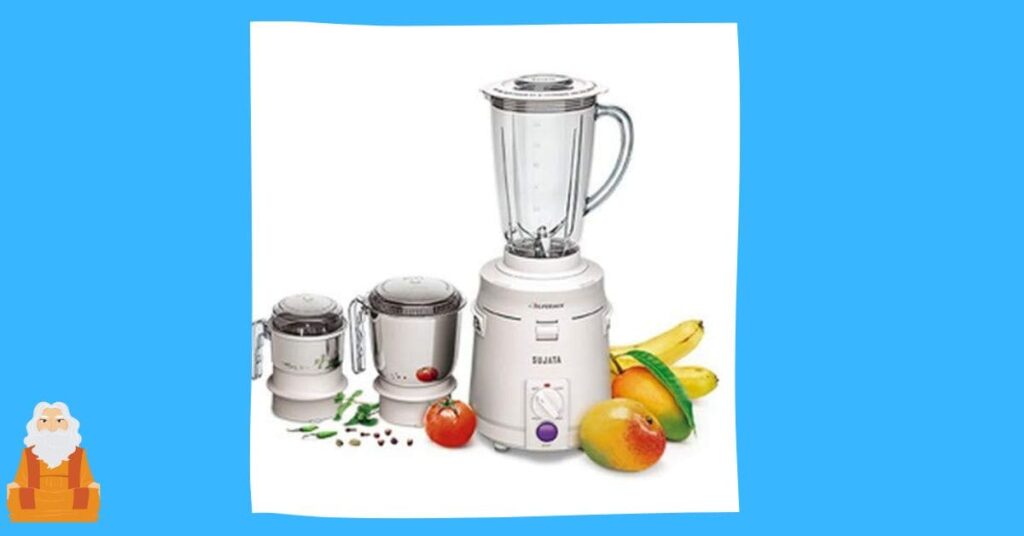 Sujata SuperMix SM Grinder is another premium, reasonably priced sujata mixer grinder with an elegant design. It is a popular option among Indian households thanks to its 900-watt motor, which can grind at a speed of 22,000 rpm and offers good grinding.

It includes three big unbreakable transparent jars, one blender jar, one stainless steel dry grinder, and one stainless steel chutney jar.

If you are out there wondering about the sujata mixer grinder 900-watt price. Then we suggest you to go with this price because its so economical for a grinder with great power, efficient performance, and speed.

It is the best option if you want a strong mixer that is straightforward, affordable, and effective.

Pros
Shockproof
Durable body
Long-lasting performance
900W powerful motor
Cons

Also Read: Bosch vs IFB Washing Machine – Which Is Best In India?
Sujata Powermatic Plus, Juicer Mixer Grinder with Chutney Jar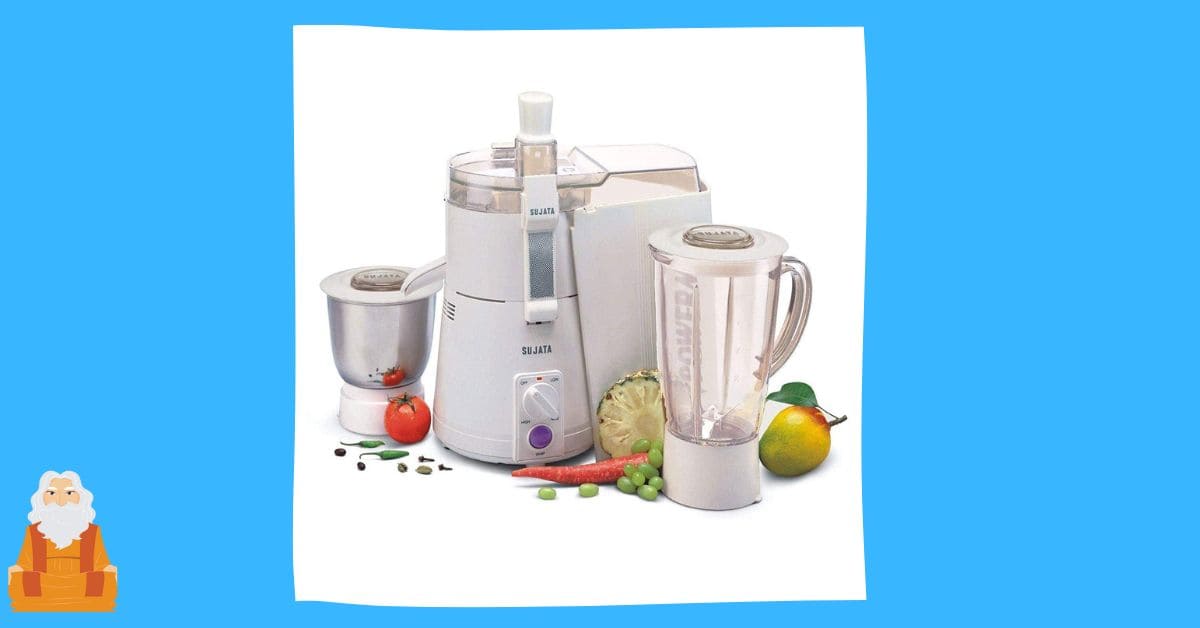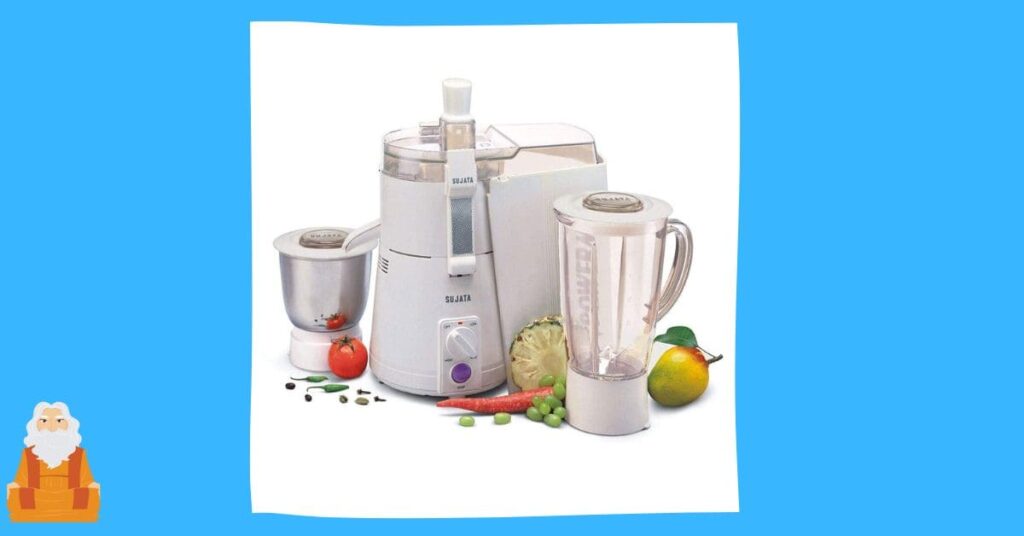 The Sujata Powermatic Plus juicer mixer grinder is one of the top juicer grinders on the market in India. This Sujata juicer is a perfect kitchen mate. It is durable because of the heavy-duty 900-watt motor and double ball bearings that power it. It has three jars: a juicer jar, a blender jar, and a grinder jar. It has a 3-speed control knob with an ergonomic design. It also has a whipper button for rapid motion and a Rotary action switch.

sujata mixer grinder 900-watt price is relatively reasonable. Even though in comparison to the sujata mixer grinder 1000 watts price, it runs more efficiently and more smoothly.

If you're seeking a juicer in India right now, this Sujata Powermatic Plus is your finest choice. It works well and is built to last a lifetime.

Pros
Compact appearance
900 watts motor
Perfect value for your money
Long-lasting stainless steel jars and blades
Cons
Conclusion
Sujata mixer grinder is a sturdy and efficient grinder. You can do a lot of grind with it, making it a preferred choice in a mixer grinder.

You get the powerful heavy-duty motor that lets you continuously grind various items while retaining the nutrients and original flavor. Moreover, Sujata mixer price in India is quite affordable whether it is sujata mixer grinder 900-watt price, Sujata mixer grinder 1000 watts price, or Sujata mixer grinder 750 watts price.

So, we hope you have benefited or learned a thing or two with the sujata mixer grinder review. You can also read our whirlpool fridge review before buying. 
FAQ's
1. How to remove the holder from the Sujata mixer grinder?
Unscrew three teeth of the driving gear
And lift them from the driving base with a screwdriver. (Make sure you use the right shape screwdriver to avoid damage.)
Now, you easily detach the holder.
2. Which Sujata mixer grinder is best?

The sujata Dynamix is a best sujata mixer grinder. Its compact size makes handling it simple. The sujata mixer grinder can run continuously for 90 minutes at 900 watts. As a result, you can now grind all the ingredients at once. Sujata mixer grinder uses vibration-free technology, which significantly lowers noise levels. Last but not least, the sujata mixer grinder 900 watts price is the best quality and offers value.

3. How to use the Sujata mixer grinder?
Fill the jar with ingredients you want to grind
Cover it and place it on motor
Make sure the lock slides down the holder jar for secure grinding
Now turn your pot clockwise to fix it
When you are all set, turn the knob by selecting speed.
4. How to open the Sujata mixer grinder?
Unlock both sides of the motor housing and lift the pulp container away from the grinder cover.
Take off the lid.
The filter will be removed with a gentle lift of the container.
The filter may be easily removed by pushing it up from the base.
Separate each component, except for the motor casing.
5. How to clean Sujata mixer grinder
First, disassemble the sujata mixer grinder
Rinse each part with water
Wipe them with a cloth and leave them to dry
Now assemble it following the way you disassemble it in the first place.
6. Why Sujata mixer grinder is best? 

Because it is so robust, reliable, and effective at blending and grinding, the sujata mixer grinder is the best. It's an excellent pick as it can run smoothly for more than an hour.

7. Is the Sujata mixer grinder good for home use?

Yes, the sujata mixer grinder is the number one choice of every Indian household.

8. How do you clean a Sujata mixer jar?
First, fill the jar with lukewarm water
Add some detergent or soap
Now put it on motor and give it a spin for a few minutes
Now switch off the motor and empty the jar
Refill it with clean water and again spin
And at last empty it.